Posted by Carnegie Math Pathways
On September 3, 2019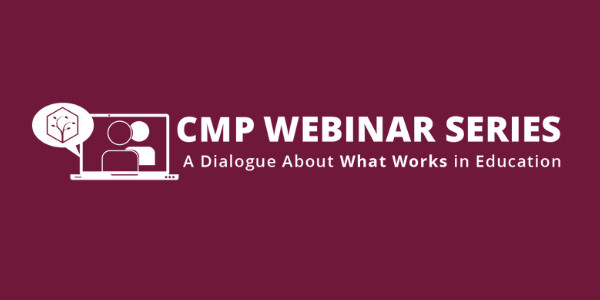 You may have seen recent messages announcing our new webinar series, A Dialogue About Works In Education. From coreq design to our new fully-online courses launching in 2020, we're excited to highlight the innovations and learnings of our network through these monthly webinars. 
Led by Executive Director, Karon Klipple, and members of our network, our first webinar on Wednesday, September 18 will offer an overview of the CMP approach, our results, and takeaways on what we've learned works in math pathways implementation. If you have faculty and administrators who are new to the Pathways and CMP network at your institution, we recommend that they participate in this one-hour introduction.
Our October webinar focused on the CMP coreq offerings is ideal for experienced and new CMP faculty and administrators interested in hearing more about these offerings, our results, and what we continue to learn about effective coreq implementation and design through our network implementations. Join us to hear from faculty and administrators who are currently implementing these courses.
We hope to see you online, and please stay tuned for more information on webinars in the upcoming months!