Posted by Carnegie Math Pathways
On July 7, 2020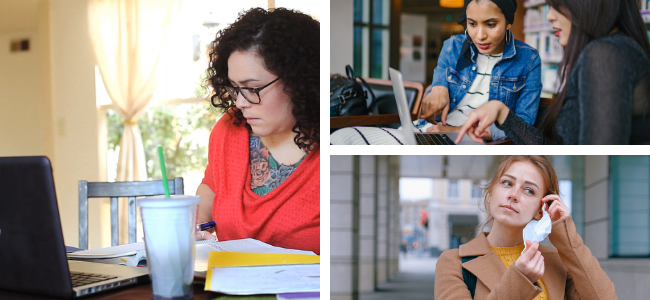 Will you teach online, in-person, or need to be prepared to teach a combination of the two this fall? This quick guide will help you determine which faculty certification training is right for you based on your planned teaching format.
---
I'm teaching online this fall…
To prepare to teach the new online courses, visit the Carnegie Math Pathways Faculty Portal and click "Certification Courses." From there, you'll be directed to the Faculty Commitment page, asking you to agree to complete a self-paced training course before teaching online. We estimate that the training will take four to six hours to complete. Given the Covid-19 crisis, the training is currently available for free.
Cost: Free*
Training Format: Online, self-paced
Time Commitment: 4-6 hours
*For a limited time, we are offering this course free for participants
---
I'm teaching in-person this fall…
Sign up to join a six-session New Faculty Training Online Seminar. Our training seminars are offered throughout the year to prepare faculty to teach Quantway and Statway in-person for the first time. Led by experienced network faculty, these online seminars include 6 one-hour synchronous online sessions in small cohorts and one hour of pre-work before each online session. You can register here.
Cost: $330
Training Format: Online, synchronous, with a small cohort
Time Commitment: 12 hours, typically spread across 3 weeks
---
I'm teaching a combination of in-person and online instruction, or I hope to be prepared to transition between these two formats in case that situation arises…
We recommend taking the online certification course to teach Quantway and Statway Virtual. Because our new online courses can be adapted to in-person and hybrid instruction, completing the online certification course will be the best way for you to prepare to teach a hybrid model, or to be ready to switch between formats during the fall term.
Cost: Free
Training Format: Online, self-paced
Time Commitment: 4-6 hours
These are exceptional times and we've taken measures to make teaching in any format as easy and cost-effective as possible for all educators. This is why we've made the online training for our virtual courses free while the effects of the pandemic continue to ripple across the globe.
Training for in-person courses involves more contact hours and greater staffing and resources, thus increasing the cost. In pre-pandemic circumstances, any educator teaching our courses in person would need to complete this more extensive training. However, with Covid-19 putting a strain on many institutions financially and there still being significant uncertainty over the course formats for the fall, we want to offer the simplest and most flexible training option to educators, so you are prepared to teach in whichever format is necessary for your institution this fall.
Rest assured that regardless of format, the same amount of thought, support, and deliberation has gone into every training opportunity we provide, and you will benefit from a productive and thoughtful onboarding experience.
Yes. While the training you have already received has been substantive, our online courses use an adaptive learning platform not seen in any of our other courses. The certification course will familiarize you with this platform (also used by the students in Quantway and Statway Virtual) and will introduce you to the ways we're maintaining the design principles of our traditional courses in the online space. 
As a NIC member, the certification in which you'll enroll will be a network-specific course and will take an estimated 4 to 6 hours to complete.
No. The free online certification to teach Quantway and Statway Virtual is for all educators, regardless of prior Pathways teaching experience, interested in teaching our online courses this fall.