Posted by Carnegie Math Pathways
On September 3, 2019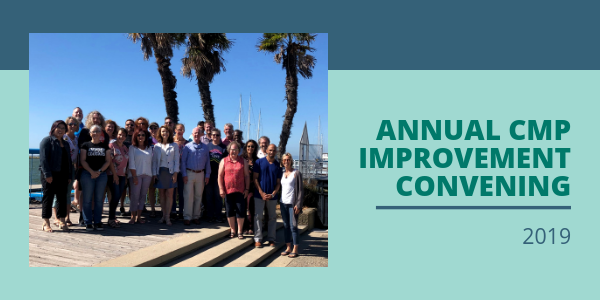 Continuous improvement has been at the center of the Carnegie Math Pathways Network since it began almost 10 years ago. It is with this mindset that faculty and administrators from across the network came together for two days in July to discuss how to better support network institutions and faculty as they teach Statway and Quantway courses. 
Administrative Coaches, Faculty Mentors, members of the Faculty Support Program Improvement Team, and CMP staff gathered at WestEd's Redwood City, California offices to share their wealth of experiences and learn from each other. Areas of improvement that teams will be working on in the coming year are:
How to better share learning from across the network

Improvements to the new faculty training models

How to better support institutions offering Statway and Quantway for the first time

Incorporating reading strategies to support CMP faculty

Supporting institutions as they work to increase their student's success rates and reach more students
The annual convening serves as both a reflection on the previous year and a kick-off to the year ahead. Data from around the NIC are shared with convening participants and are used to identify areas of improvement. This includes CMP surveys that bring as many network voices to the table as possible. Each survey that you take is an opportunity for your suggestions and feedback to help direct our efforts.
Teams have already begun to implement the changes discussed over the two-day event. The most immediate result will be the launch of several webinars during the fall that will focus on learning and sharing from around the network. Stay tuned to the NIC Newsletter and other emails detailing additional opportunities in the year ahead. 
The architect Archibald Leitch brought his experience with the construction of industrial buildings to bear on the design of functional stadiums up and down the country. His work encompassed the first 40 years of the 20th century. One of his most notable designs was Old Trafford in Manchester. The ground was originally designed with a capacity of 100,000 spectators and featured seating in the south stand under cover, while the remaining three stands were left as terraces and uncovered.