Posted by Carnegie Math Pathways
On September 24, 2020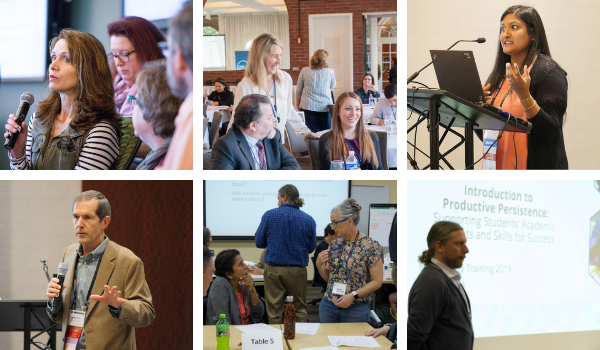 These photos were taken at in-person events before the outbreak of Covid-19.
This past August, the Carnegie Math Pathways hosted the annual convening of Faculty Mentors and Administrative Coaches to reflect on the previous year and to plan for the year ahead. Meeting together for our first ever virtual convening, we delved into two critical topics of the moment⁠—social justice and equity in our work along with the impact of Covid-19 on teaching and learning this year and how we can best support faculty and institutions as they navigate distance learning. We also discussed improvements to our network, including modification to faculty mentoring assignments and increasing engagement opportunities between mentees with mentors.
As we have done in the past, we will approach the goals set forth by our mentors and coaches with an equity lens. This year, we will focus on:
Encouraging community sharing and learning through the

Carnegie Math Pathways Community Forum

and network sharing calls to promote promising practices, especially around distance learning

Establishing faculty mentee cohorts to continue to engage with new faculty who attend training

Testing new faculty mentor engagement opportunities, including hosting open office hours and enabling emails to the faculty mentor group to leverage the experiences of the entire team

Launching improvement teams to address areas of need identified during our time together, including instructor notes to support online learning, Curriculum Committee improvements for the 2021-22 academic year, and quality assurance and UX work on the virtual course platform and materials
We would like to thank all of those who participated in the convening for their time and effort in thinking through the unique challenges of these unprecedented times. Stay tuned for more updates as various projects are launched in the coming months.
---
About the Carnegie Math Pathways Faculty Mentors and Administrative Coaches
Faculty Mentors and Administrative Coaches are experienced Pathways implementers who dedicate a portion of their time to provide support, professional learning, and guidance to new faculty and administrative leaders implementing Quantway and Statway at their institutions.
Carnegie Math Pathways Faculty Mentors
Aaron Altose
Cuyahoga Community College
Ohio
Michelle Brock
American River College
California
Mary Crawford-Mohat
SUNY Onondaga Community College
New York
Bridget Dart
Suffolk County Community College
New York
Andre Freeman
Capital Community College
Connecticut
John Kellermeier
Tacoma Community College (Retired)
Washington
Jan Miller
Bay Mills Community College
Washington
Bethany Sansing-Helton
Madison Area Technical College
Wisconsin
Mike Sieve
Ridgewater College
Minnesota
Read Vanderbilt
Diablo Valley College
California
Paul Verschueren
Seattle Central College
Washington
Brenda White
SUNY Morrisville
New York
Carnegie Math Pathways Administrative Coaches
Steve Branz
San Jose State University (Retired)
California
Stephanie Delaney
Renton Technical College
Washington
Margo Keys
Chippewa Valley Technical College
Wisconsin
Kelly Kohlmetz
University of Wisconsin-Milwaukee
Wisconsin
Jane Reinke
North Hennepin Community College
Minnesota